Hyperbaric Oxygen Therapy in Melbourne


Hyperbaric Oxygen Therapy
Remove stress, muscle soreness and fatigue. Treat injuries, and brain fogginess, and oxygenate your lungs to their full potential. Reduce inflammation and swelling, and boost mind clarity. All the while your immune system will be strengthening with every breath you take in your hyperbaric oxygen therapy session.
Our Sunlighten Airpod is a beautifully designed mild hyperbaric oxygen therapy chamber. Come visit us in South Yarra, Melbourne and try our amazing therapies for yourself.

What is Hyperbaric Oxygen Therapy?
Hyperbaric oxygen therapy (HBOT) refers to breathing in conditions of 100% pure oxygen under high pressure. This process encourages oxygen to be quickly absorbed and dissolved into the bloodstream at an expedited rate. Infection can slow healing because the blood supply to the affected site is damaged. Hyperbaric oxygen therapy or HBOT increases the oxygen supply to these damaged tissues.
Mild hyperbaric therapy or mHBOT has also shown significant health benefits and may administer up to 95% oxygen in a small range of 1.3 to 1.4
atmospheric pressure. Providing incredible health benefits, mHBOT is a much more affordable treatment option.
Our bodies rely on the constant supply of oxygen intake to survive. Our atmosphere is approximately 21% oxygen. This element is required by every cell in the human body to produce cellular energy via the mitochondria.
When oxygen is administered at high-pressure rates, up to 20 times more oxygen can be absorbed by the bloodstream. This oxygen is transported to damaged organs and tissue which speeds up both healing and recovery time.
Benefits of mild Hyperbaric Oxygen Therapy
mHBOT may benefit any patient who is healing from a condition triggered by inflammation in the body. The healing process can be improved using mHBOT to deliver a higher rate of oxygen to damaged tissue. In fact, oxygen controls more than 8,000 genes and is one of the most natural forms of antibiotics.
mHBOT use may help with the following:
Stimulate new blood vessel growth and increase blood flow
Elevate the body's natural immune defences to fight infection and bacteria
Reduce swelling that may occur around damaged areas
Speed up healing by increasing tissue oxygen levels to areas in the body where they are reduced due to injury or illness
Boost the supply of circulating stem cells
Promote the growth of new capillaries and blood vessels
Promote new nerve growth in the brain
Reduce radiation and inflammation in tissue and bones
Stimulate oxygenation
Support faster wound healing.
Our Sunlighten Airpod is a beautifully designed mild hyperbaric treatment chamber. Come visit us in South Yarra, Melbourne and try our amazing therapies such as hyperbaric treatment for yourself.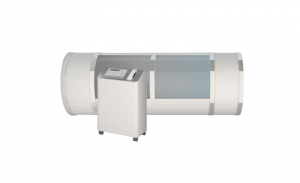 Safety and Comfort Comes Standard
Our Sunlighten Airpod, a beautifully designed mild Hyperbaric oxygen chamber is just so comfortable to experience. It has many levels of safety measures. The machine can be controlled from inside the chamber allowing you full access to it. It has a two-way telephone system should you need to ask a question once inside. Upon your arrival, a team member will explain techniques to help clear your ears during pressurisation and depressurisation. These include some special breathing techniques, swallowing, yawning and lightly pressing your ears. We even have a technique for the minority who struggle to equalise their ears. It has the convenience of different rates of pressurisation speed and levels of pressure options for you to choose from. But best of all, it has the largest window for peace of mind.
Price Guarantee
We take pride to provide you with the very best service, and equipment at prices no one can beat. Just to give you peace of mind, if you can find a better-advertised price for any of our services, we provide we will beat it by giving you an upgrade.
Whether you are looking for a mild hyperbaric oxygen, infrared sauna, molecular hydrogen, whole-body red-light therapy (Photo Biomodulation) or a float tank in Armadale, Camberwell, Collingwood, Hawthorn, Hawthorn East, Malvern, Moonee Ponds, Prahran, South Yarra, St Kilda or any surrounding suburbs, customers come down from all over Melbourne to visit The Orchard Prahran and we invite you to do so too. Our body is a temple made of water and vibration energy, a water temple that gravitates us beyond rest and recovery. The ability to redefine your zero-gravity float experience or feel the sense of elevation floatation shapes our sense of calmness.
With so many wonderful holistic health modalities we already have and forever aiming to grow, we welcome all new clients who wish to try any of our services and we trust your experience to be wholesome and with gratitude.
Get in touch with our team for more information regarding hyperbaric oxygen therapy in Melbourne. For more info please text "oxygen" to 0435827708 and we will get back to you straight away.